Brand trust is essential for any business. After all, if customers don't trust your brand, they will not want to do business with you. But, on the flip side, if customers do trust you, they're more likely to do business with you and refer you to their friends and family. That's why building trust with your customers from the very beginning is essential to building a successful business. This article will expand on trust, the challenges businesses face when it comes to trust, and ten ways to continue creating a trustworthy company.
Table of Contents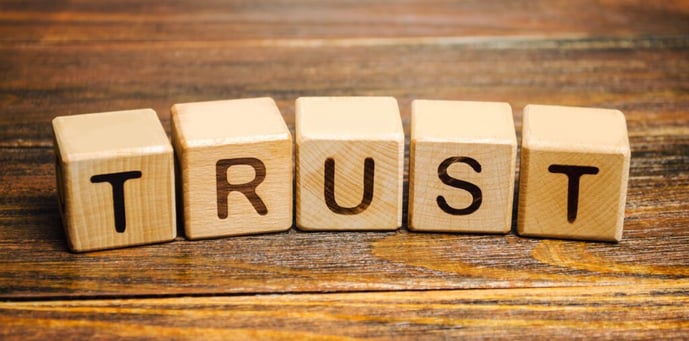 The Importance of Trust
Trust is important for potential customers because it helps to build relationships. When customers trust a company, they are more likely to do business with them and recommend them to others.
In fact, studies have shown that:
71% of customers are likelier to buy from a brand they trust. (source)
61% of customers are likelier to recommend a brand they trust to friends and family. (source)
And while many factors contribute to building trust, marketing, and the content on your website play a big role.
Challenge of Building Trust in an Digital World
In an increasingly digital world, building trust with customers and clients can be challenging. It can be difficult to build trust with customers because they can't always see, touch, or interact with you in person. This is especially challenging for small businesses and start-ups that don't have the budget for traditional marketing methods like TV commercials or print ads. But there are still many ways you can reach and engage your target audience online.
In order to build trust, businesses need to be open and transparent with their customers, and they need to ensure that their customer data is secure. Additionally, companies must ensure that their online presence is professional and up-to-date. The key is to create a strong relationship with your customers through trust-building marketing and content strategies.
10 Ways You Can Instill Trust in Your Brand Through Marketing and On Your Website
1. Be genuine and authentic in your marketing efforts.
This means being honest about your products and services and communicating openly and transparently with your customers. Be careful not to make promises you can't keep or overhype your products. This will only lead to disappointment and mistrust down the road.
So how do you become more authentic in your marketing efforts? Here are a few tips:
Tell your brand's story in an exciting and engaging way
Be active and responsive on social media
Use customer testimonials, reviews, and case studies on your website and in your marketing materials
Don't be afraid to show your human side – let your personality shine through!
Authenticity is important because it builds trust between you and your customers.
2. Be consistent with your messaging across all channels.
Consistent messaging is key to maintaining trust with your audience. You need to be clear, concise, and on-brand with every message you put out there. This means having a solid understanding of what your brand is, what it represents, and what messaging will resonate with your target audience.
When customers see inconsistency in your messaging, it can quickly turn them off and make them question your credibility. On the other hand, if they see that you're consistent with your messaging across all channels, it will instill trust and confidence in your brand.
Your brand messaging should be consistent across all channels, from your website to your social media accounts to your email marketing. This will help create a cohesive brand image that customers can trust.
How do you create consistent messaging? By developing a brand voice and tone guide.
The brand voice and tone guide should help outline how your brand speaks, what language to use, and what tone to use with different content types. Once you have this guide in place, ensure all your team members are on board.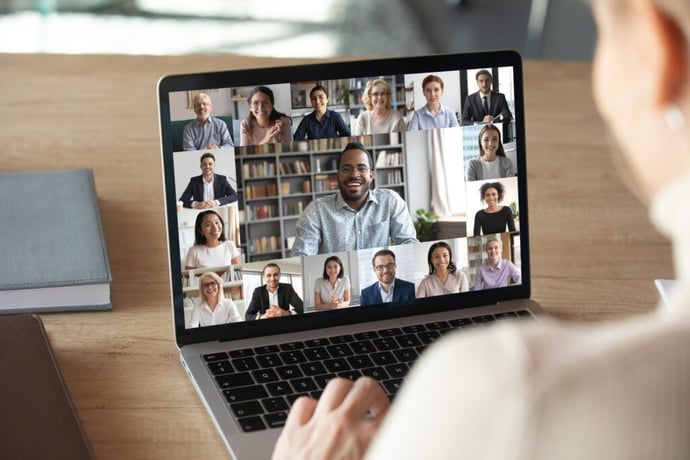 3. Be transparent in your dealings with customers and prospects.
Transparency is key in building trust with your customers. They should always know what they're getting, and there should be no surprises. So be upfront about pricing, delivery times, terms and conditions, etc. This way, there are no misunderstandings later, and customers will appreciate your honesty.
4. Don't make promises you can't keep.
This goes hand-in-hand with being honest and transparent. If you make promises to your customers, be sure you can deliver on them. Nothing will damage your reputation and relationship more than making grandiose promises and not being able to follow through.
A company's reputation is its most valuable asset. It can take years to build a good reputation and only a few minutes to lose it.
The bottom line is this: if you want to maintain a good relationship with your customers, always be honest and transparent with them. Don't make promises you can't keep, and always follow through on the ones you do make. That's the best way to maintain a good reputation and keep your customers coming back for more.
5. Deliver on your promises.
This is the flip side of the previous point. Once you make a promise, do everything in your power to deliver on it. This will build customer trust and loyalty and keep them coming back for more.
6. Communicate openly and frequently with your audience.
Make sure you regularly communicate with your target audience, whether through a blog, email newsletter, or social media. Keep them updated on your latest products or services and any news or stories that might be relevant to them. If you can keep them informed and engaged, they'll be more likely to buy from you when they need your product or service.
In addition to regular communication, another way to build a relationship with your target audience is to offer them something of value. This could be a free e-book, white paper, or report that provides valuable information related to your industry. Alternatively, you could offer a discount on your products or services. Whatever you decide to offer, make sure it's something that your target audience will find useful and relevant.
By building relationships with your target audience, you'll create loyal customers who are more likely to buy from you in the future. So don't neglect this critical aspect of your marketing efforts! Consistent communication is key to building trust and connection.
7. Be responsive to customer inquiries and feedback.
It's important to be responsive when customers reach out to you with questions or feedback. Show that you care about their experience by replying as soon as possible.
Customers appreciate when businesses are responsive to their inquiries. By replying quickly, you show that you value their business and want to ensure a positive experience. This will help build customer loyalty and keep them coming back for more. In addition, this shows that you care about their experience and are willing to listen to what they have to say. Don't let customers wait too long for a response. If you can't reply right away, let them know when they can expect a response. This will help manage their expectations and keep them from getting frustrated.
8. Make it easy for customers to do business with you.
The easier you make it for customers to do business with you, the more likely they are to trust you. If customers see that you value their time, they are more likely to feel valued themselves.
Make it easy for customers to find what they need on your website. Use clear and concise labeling, and consider using search engine optimization (SEO) keywords to help customers find what they need. Also, make sure your contact information is easily accessible so that customers can reach out to you if they have questions or concerns.
Consider offering online chat support or a live chat option on your website. This can give customers the ability to get answers to their questions in real-time, without having to wait on hold or for a customer service representative to become available.
9. Show that you care about your customers and their experience with your brand.
Earlier, we touched on the importance of communicating and responding to customers. Both of these boil down to a business's emphasis on customer service. Customer service is a key factor in building trust. It shows your customers you care about them and their experience. In addition to responsiveness here are a few things you can do to provide great customer service:
Be helpful: Provide clear and concise information that is helpful and relevant to the customer's inquiry or problem.
Be professional: Maintain a courteous and professional demeanor at all times.
Follow up: Make sure to follow up with customers after addressing their concerns to ensure they are satisfied with the resolution.
These are just a few ways you can provide excellent customer service. Make sure your customer service representatives are well-trained and able to handle customer inquiries and concerns. Provide them with the resources they need to resolve issues quickly and efficiently.
Regularly review your customer service policies and procedures to ensure they are up-to-date and effective. Make sure your employees are aware of these policies and procedures and that they understand how to follow them.
Customer service should be a priority at your company. By providing excellent customer service, you will build trust and loyalty among your customer base, ultimately leading to more business.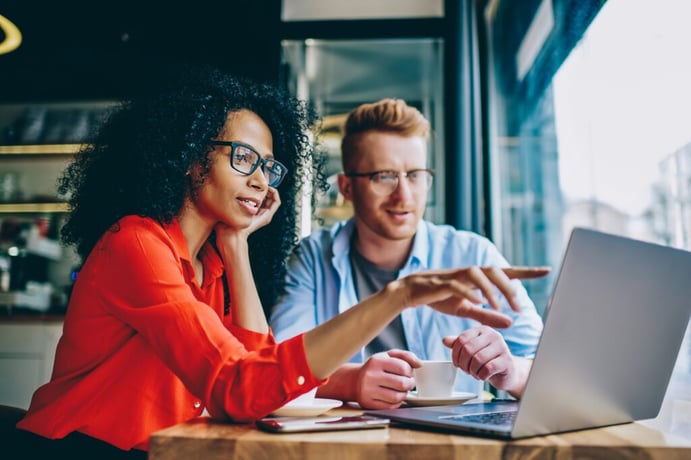 10. Encourage customer referrals and testimonials.
Customer referrals and testimonials are one of the best ways to build trust with new customers. By sharing stories and highlighting previous customer successes with your product, you can show new prospects that you're a company worth doing business with.
Customer referrals are a powerful marketing tool because they come from a credible source – someone who has already had first-hand experience with your product or service. When potential customers see that others have had success with your business, they're more likely to take the plunge and give you a try.
Testimonials work in much the same way. By featuring positive reviews from your satisfied customers on your website or in your marketing materials, you can boost prospect confidence and encourage them to do business with you.
Go above and beyond to build trust with your target market
These are just a few of the many ways you can build trust with your customers in the digital age. By being genuine, consistent, and transparent in your marketing efforts, you'll be well on your way to developing strong relationships with your target audience. Need more proof on how important trust is for businesses? Here are a few statistics:
Almost 90% of customers report trusting a company whose service they rate as "very good." On the other hand, only 16% of those who give an "inferior" rating trust companies to the same degree (source).
61% of shoppers are more likely to recommend brands they trust to their friends and family (source).
46% of consumers say that they would pay more to purchase from brands they can trust (source).
Final Thoughts
Trust is one of the most important factors in any business or brand relationship. It's what helps customers feel comfortable spending their money with you, and it's also what can help build loyalty and repeat business. There are many ways to build trust with your marketing and on your website. We hope that by using these tips, you can help ensure that your customers and clients feel good about doing business with you.
Interested in optimizing your website and creating a seamless user experience? Check out these blogs!
Are you a business or a brand working to build trust with your audience? What other ways do you build trust with your customers? We'd love to hear all about your experience. Join the conversation on LinkedIn.
Ready to start creating a community built on trust, but don't know where to start? We're always happy to help. Schedule a free consultation with us.