So, you own a business. Sure, you've got years of experience under your belt, gotten yourself out of a few tight jams, and even surpassed your goals for Q4 of last year. But maybe you still need a little help staying on top of trends in marketing to successfully keep your business growing. Or, maybe you're on the other side of the spectrum – maybe you're just starting out and need to know where to start. Heck, everyone could use a little help! And what better way than to get your information on-the-go than with podcasts!
According to Nielsen ratings, over 60 million homes in the US listen to podcasts.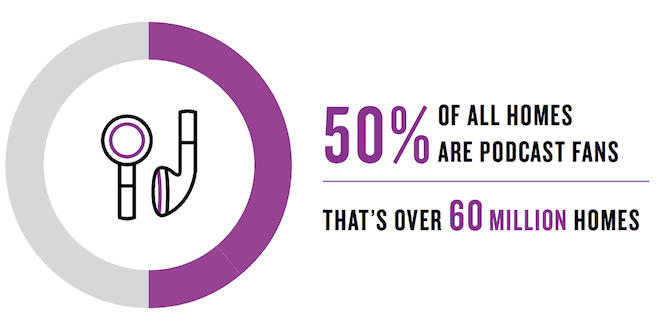 Credit: Nielsen Q3 2017 Podcast Insights
And it's no wonder, since podcasts are an easy – and often free – way to learn a new skill and keep ahead of what's trending in marketing. You can listen on your home computer, during your work commute, or on your smartphone during a lunch break. It's easily one of the most convenient forms of media to consume. Whichever way you listen to podcasts, you'll learn a ton and have fun at the same time. And you'll become a better marketer (and entrepreneur) by listening to these marketing podcasts.
At Two Trees PPC, we truly believe in helping anyone we can, so we compiled a list of our favorite marketing podcasts to help you on your journey to become a better marketer. Oh, if you're a newbie to podcast listening, many podcasts have their own websites (which we'll link to below), and alternatively, you can download a Podcast App on Google Play or iOS, and search from there. Easy peasy.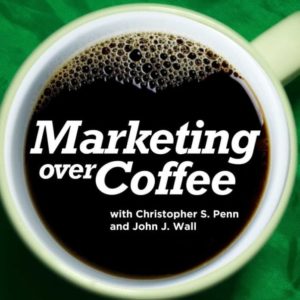 In Marketing Over Coffee, or MOC, hosts John J. Wall and Christopher S. Penn talk shop over coffee (or tea) with a range of today's entrepreneurs and leadership influencers – Simon Sinek, Seth Godin, Ann Handley, and Mike Volpe to name a few. Their conversations go over essential marketing strategies and techniques in very thought-provoking ways, all while having very practical takeaways for the listener.
2. Duct Tape Marketing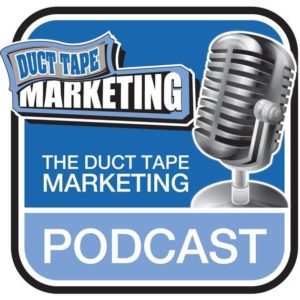 In this weekly themed show, veteran marketing consultant John Jantsch sits down with industry experts, authors and thought leaders to discuss various marketing topics and business tactics. These short, but information-packed, sessions are about 15 and 30 minutes long. Perfect for fitting into a lunch break with time to spare!
3. Copyblogger FM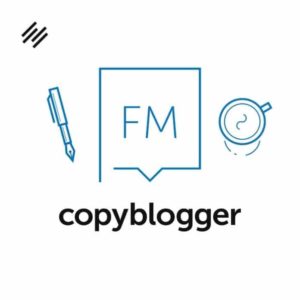 With a rotating panel of industry experts, Sonia Simone of Copyblogger analyzes content-related trends and topics, such as copywriting, email marketing, content marketing, conversion optimization and others. This is one to listen to if you're struggling with your content and copywriting skills, especially as content tactics are ever-changing.
4. HBR IdeaCast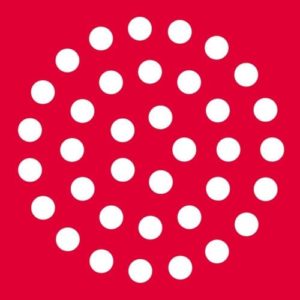 A podcast straight from the Harvard Business Review. The HBR IdeaCast helps us understand the mindset of successful leading businessmen and women, and how to apply these methods to your own business. This weekly podcast features today's leading thinkers in areas of business and management.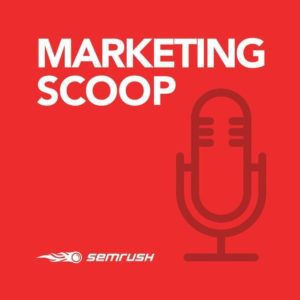 The popular SEO tool SEMrush has a weekly podcast where they talk about, share and discuss the latest marketing strategies and how these affect your business. Today's industry experts uncover and analyze digital marketing in all its aspects, whether it's advertising, SEO, or content marketing.
6. Social Media Examiner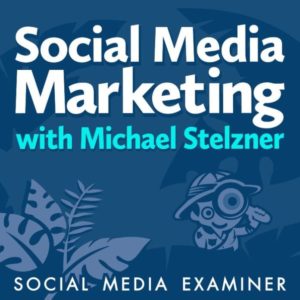 Social Media Examiner (SME) is a popular blog, and their podcast is practically a household name. Michael Stelzner, the founder of SME, is also its host. If you want to up your social media marketing game, then this podcast isn't one to miss. There are two weekly audio sessions – one to help boost your marketing skills in social media, and the other to keep you on trend with social media news. Each podcast is about 45 minutes long and features expert interviews, as well as success stories from leading social media pros in the marketing sphere.
So, if you're looking for in-depth expert advice or just want to stay in-the-know with the marketing news of the week, you'll find practical knowledge that you'll need to make your business grow.
There you have it! Just a small sampling of podcasts we like. We'll add to this list as we stumble onto other great, useful podcasts. Stay tuned…