A web page shares information, and its goal is to educate. However, a landing page is a page or pages on your website designed specifically for a digital marketing campaign – It's designed to convert users. A landing page provides your audience with relevant information and a call to action. An example of a typical landing page is clicking an ad and being directed to a new offer, a contact us page, or a sign-up page.
Your landing page should:
Include specific information related to the ad
Be tailored to the audience you're targeting
Be created with a goal in mind
A landing page is crafted to get a visitor to take action as it relates to the digital ad that directed them to this page.
Landing pages are easy to create, but there are best practices to follow to ensure you achieve the best outcome from your landing page. And it all starts with having a clearly defined audience and call to action. Landing pages are a natural step in your digital marketing campaign.
In this article, we'll discuss the best practices in not just creating a landing page but creating a landing page that converts.
Table of Contents
The Importance of a Landing Page
Earlier, we mentioned that some businesses may use web pages in place of a landing page and that it's not always the best practice. However, landing pages are a significant piece of advertising! Landing pages are attached to specific ads, and you can tailor each page to be relevant to your target audience. By tailoring each landing page, you can use them to speak to your different audiences and their unique needs.
Here's a scenario:
You're a cleaning company with several different specials for this month.
You have a:
Move out special
One time special
Loyalty program
You can create separate ads that direct users to a unique landing page. Each digital ad can have specific targeting and reach an audience that's most likely to use a particular special. Once someone clicks on the ad, they're directed to your landing page with a direct Call to Action – "Redeem this Special."
Landing pages are purposeful and have an end goal. In this example, the cleaning company wanted to share their specials and encourage potential customers to use those specials.
Landing pages are intentional and should be related to the digital marketing ad that the customer clicked on.
The Basics of a Good Landing Page
Now that we have gone over the importance of a landing page- what makes a good landing page? A good landing page starts with a smooth user experience. Your landing page should be created with your audience in mind. Here are two things to look at when making a good landing page.
Design
Copy
Design
Trends come and go, so we encourage you to create a clean, crisp design that matches your business's branding. Your page should be easy to navigate and intuitive so that anyone who is on your landing page won't be confused or frustrated at the layout.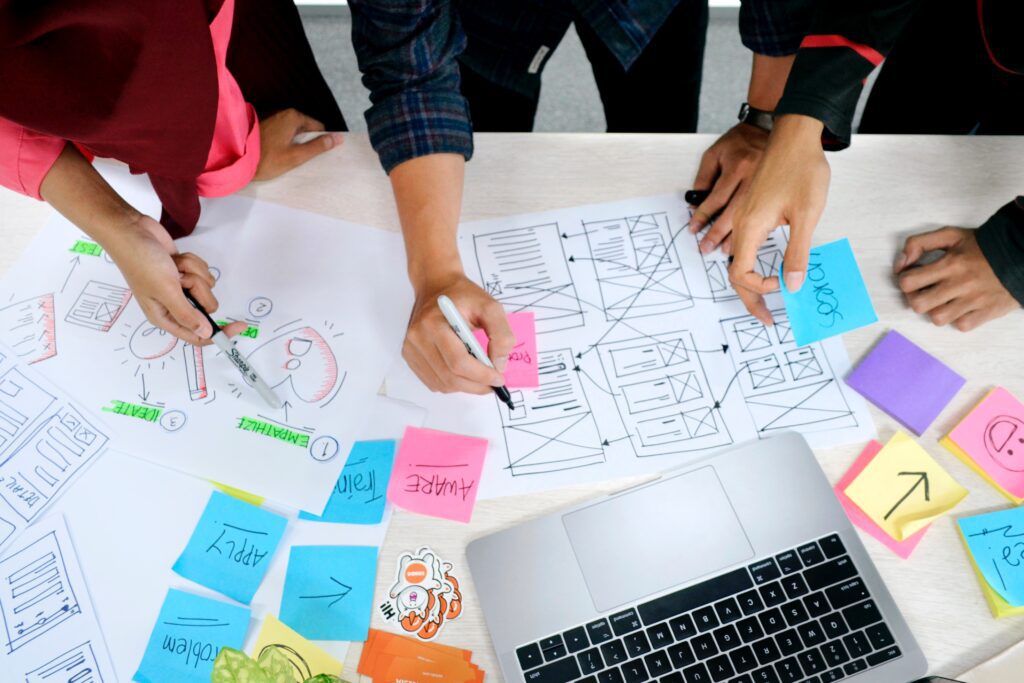 Copy
Be concise in your copy. It should be short, sweet, and to the point. Your website visitors spend very little time looking at a landing page, so you want your copy and call to action to be direct and clear.
Let's expand on copy a bit – there are so many ways we use copy every day – in blogs, emails, and advertising, but there's a specific way to present information on a landing page. So while there are hundreds of different layouts, they all have a few things in common when it comes to content.
Call-to-Action (CTA)
Social Proof
Headings & Subheadings
Call-to-Action (CTA)
A call to action is a button or click-through link that guides the visitor to the next step. This can look like a "Download Now," "Subscribe to our Newsletter," or "Contact us."
Social Proof
Social proof is sharing testimonials, reviews, and the brands you work with, with potential customers. This helps solidify yourself in the market by showing that your customers are typically satisfied with your products or services.
Headings & Subheadings
Lastly, look at your heading and subheading. Both these sections should be at the top of your landing page and should be attention-grabbing and informative.
So, use your heading to grab your audience's attention and your subheading to keep it.
When writing your landing page's copy, ask yourself questions like:
Who am I targeting?
What does my audience need to know?
What do I want my audience to do?
Remember your products and services are beneficial to your audience for different reasons, which is why creating unique landing pages is a great way to relate to each audience group. When writing the copy for your landing page, ensure that you're conveying the most important information to provide your audience with enough information to understand your product or service, form an opinion, and take action.
Finally, whether you want your visitor to buy or fill out a form, make sure you have a defined next step. You want to create a landing page with a goal in mind. Your copy and Call-to-Action should help achieve that defined goal.
Create a Landing Page that Converts
We've gone over the importance of a landing page and what makes a "good" one. Everything we already discussed helps create a landing page. However, there are still a few best practices that you can incorporate to ensure you are creating a landing page that converts.
A few of those ways are to focus on:
User Experience
K.I.S.S.
Call-To-Actions (I know, I know – we already talked about this. But it is really important!)
Analytics
A/B Testing
User Experience
As mentioned, your user experience should be at the forefront of every advertising decision you make. You do not want to create a landing page that's complicated or confusing to use. If it is, you risk frustrating a potential customer and having them click out of your website.
While designing your landing page, ensure that your content is to the point and easy to follow. An uncluttered and straightforward design can entice your visitor to take action.
Keep it Simple, Silly
Your landing page should be simple and direct. It should get right to the action you want your visitors to take. For example, if you want them to sign up for your newsletter, talk about the benefits of signing up and make it easy to do so.
Call-to-Actions – We really cannot talk about these enough!
A call-to-action is text or a button guiding your visitor to do what you want. When creating a call-to-action, be clear about the action you want your visitor to take, and similar to our last point – be direct and make it easy to do!
Ensure that your CTA is crystal clear – if you have a specific action you want your audience to take, do not beat around the bush; make it obvious!
There are two ways to create a very clear CTA, and it is:
Using the classic "three-word instruction. An example of this would be "Sign Up Now," "Request a Quote," or another variation of a 3-word direction.
Use a recognizable phrase. An example of this would be "Subscribe to my Newsletter," "Look at our Cleaning Specials," etc.
Whatever CTA you choose, the goal is to encourage your audience to act immediately. So rather than outlining all the details of your service and hoping your audience will spend the time to read through and stay on your page long enough – be specific! And use your CTA to close the deal.
Analytics
Are you looking at your website and advertising analytics? If you're not, you are neglecting one of the biggest (if not the biggest) insights into your business and audience.
Your analytics is your secret weapon to understanding your website visitors. By reviewing and understanding your reporting, you can make improvements to your landing page and attract and convert more visitors.
A/B Testing
Another way to optimize your landing page is to create different variations to see what resonates with your audience best. By A/B testing and reviewing your analytics, you can then see which page is favored and move forward with the landing page with the higher conversion.
Overall, to create a good landing page that converts, you need to design a page that's user-friendly, straightforward, and convincing. The copy and call-to-action should be easy to follow and should easily guide your audience member to complete the action you want. If you're unsure of whether or not your page is performing well or if there are other iterations of your landing page that would perform better, don't be afraid to test it through A/B testing and, of course, keep an eye on your website analytics.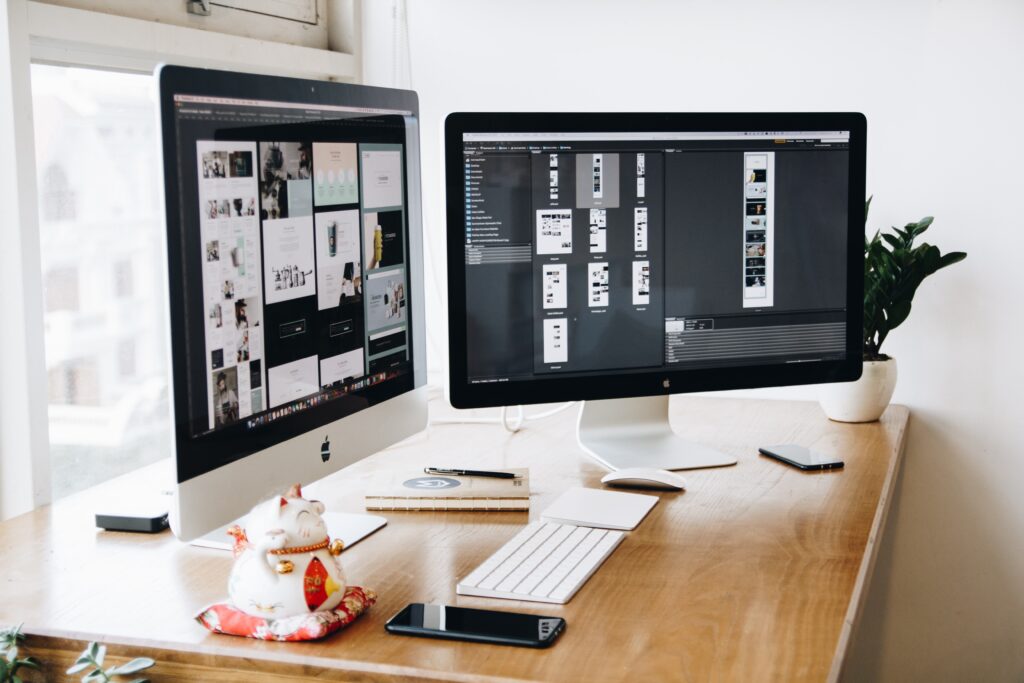 Tying it All Together
Designing a clean, direct, easy-to-navigate website and landing page is key to converting people from visitors to customers. When they sign up for a newsletter, use a coupon, or buy a product, they are interacting with your brand, and you're building brand awareness, and if they have a positive experience? Brand loyalty.
The secret to tying it all together and seeing continued success is consistency. Continuing these best practices for every landing page, every single time, and referencing back to your analytics will set your business up for success.
So, when putting together a new digital marketing campaign, ask yourself, what do you want your visitors to see when they click on your ad? Do you want them to fill out a contact form? Or buy something? By having a desired outcome and creating pages with that outcome in mind, that's when you will see results from your landing page!
While you start building out your landing page and defining your desired action, think about the customer journey. What can you provide on this landing page to help? What do they need to know to make a decision? Taking the time to answer these questions will help you thoughtfully write the copy for your landing page and eventually increase conversions.
We're Always Here to Help
Remember, first impressions are incredibly important in our digital world. Our ad copy, landing page design, the header and subheader, and the CTA we decide on all impact how potential customers see us and help them form an opinion on our business.
Once you have taken steps to optimize your landing page, it'll be much easier to create meaningful and long-lasting connections with your visitors. The sooner you can apply and consistently maintain these landing page updates, the sooner you'll see an improvement in your conversions.
If you're interested in learning more about the impact of a landing page and how to continue improving it, we encourage you to read these blogs:
You have the power to make meaningful and impactful changes to your business's digital marketing strategy, but we also understand that it can be challenging and time-consuming. If you are ready to take the next step in your business, contact us today to see how we can help manage your digital marketing presence. We are a full-service digital marketing agency that works with home service businesses to increase revenue, leads, and accomplish our partner's goals. In the meantime, join the conversation on LinkedIn, where we share even more digital marketing tips and tricks to growing your business.